Thank you to everyone who voted for us in this year's Gazette's Best of. We were winners in 4 categories; Dog Trainer, Doggy Day Care, Pet Boarding and Pet Groomer.
Canine Influenza
At Lucky Dog, we are going to be proactive and require the H3N2 canine influenza vaccine, and recommend the H3N8 vaccine. We consulted with local vets and the Dept of Agriculture, plus our experience from the city wide H3N8 outbreak in 2008. The H3N2 virus has spread widely since it surfaced in 2015, and some experts suspect over 40 states have been affected. There was an outbreak of H3N2 virus in Parker last year.
News reports on Canine Influenza; KOAA 5 , KKTV 11 and Fox 21.
We want every dog coming to our facilities to have at least their first dose of the H3N2 vaccine before Spring Break, March 18th 2016, and their booster before Memorial day, May 27th 2016.
Learn more about our vaccine policy HERE
Central – 719 599 9663 | South – 719 527 9663
Why choose Lucky Dog Resorts: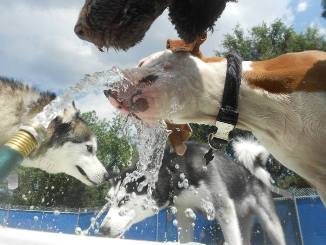 Pet Day Care

Dog Trainer
Doggy Day Care
Pet Boarding
Pet Groomer

Pet Day Care
Pet Groomer

Dog Trainer
Dog Daycare
Pet Boarding

Pet Daycare

Dog Groomer
Dog Trainer

Pet Daycare

Dog Trainer
Kennel

Pet Daycare

Dog Trainer
Kennel
Dog Groomer